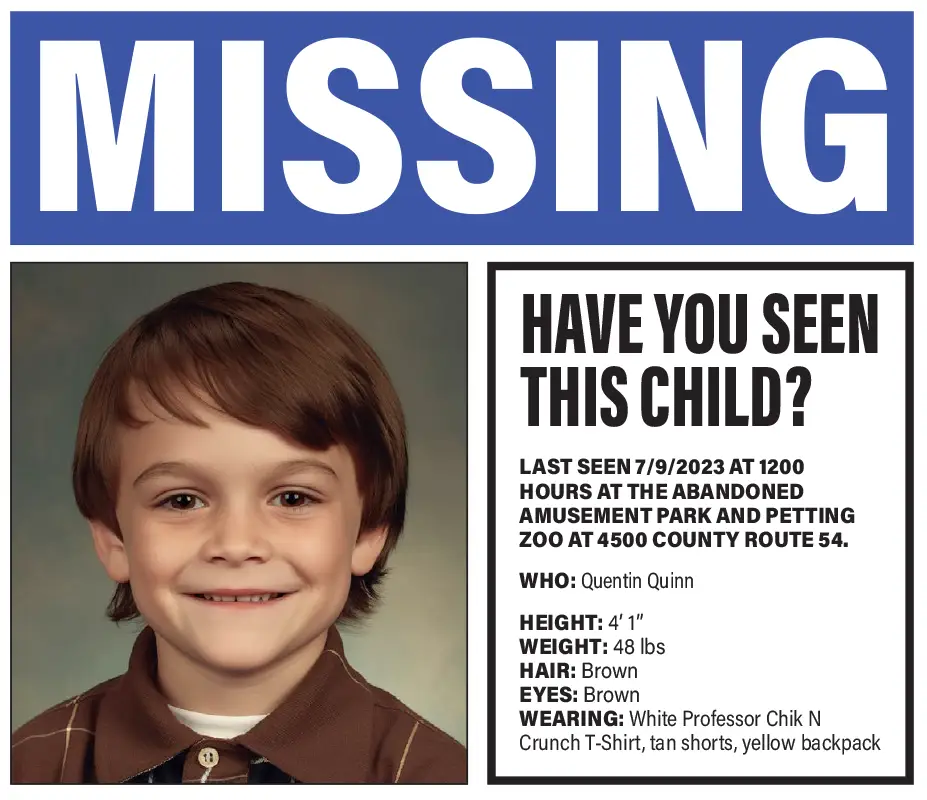 To the public,
I wish I had better news. Never before in my 32 years as an officer of the law have I been confounded by such an event, personal or professional.
After six weeks of exhaustive searching for Quentin Quinn, 6, who has been missing since July 9, I am saddened to say I have little to report other than his backpack was recovered from an out-of-use pyrite mine on July 23. The backpack contained some of his personal effects.
With the FBI's help, we examined the cave and found no other evidence other than a note, written in what appears to be Morse Code inside the boy's backpack: .. / .... .- ...- . / .- / .--. .-.. .- -. / - --- / . ... -.-. .- .--. . / ..-. .-. --- -- / -- -.-- / -... .-. --- - .... . .-.
I am embarrassed to admit the whole case has left many of us completely confounded and questioning our abilities as police. But we remain steadfast in our search, even as we have resumed regular police duties.
Now, it has come to my attention that there is a fringe element that is suggesting otherworldly or supernatural elements are responsible for the boy's disappearance. Let me put an end to that kind of talk right now: This is a disappearance of an entirely terrestrial nature. And remember: this is a boy whose parents are distraught, and public speculation as to the nature of his disappearance is unhelpful and unwelcome.
In addition to the boy—who really shouldn't have been exploring condemned structures in the first place—the Mr. Freeze-E Ice Cream cone is still missing, as is the Question Mark Foods sign, and the many other items, things, and domesticated animals that have been reported over the last many months. While some might see this as a failure of policework, we assure you that we are working diligently and carefully. After some staffing issues over the last three weeks, we are now back up to a full force again and simply ask the public to respect the badge and allow us to do our jobs.
Although six weeks have passed, we are committed to finding Quentin Quinn alive. Once again, we are relying on you, the ordinary citizen, to pass any information you may have on to us. Please contact QM Police at (740) 647-4807, ext. 1.